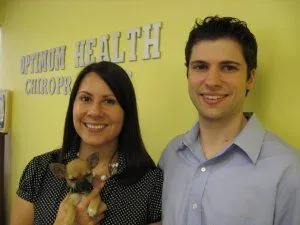 Dr. Janét Husser
Dr. Janét Husser is a Magna Cum Laude graduate and Presidential Scholar of Palmer College of Chiropractic in Davenport, Iowa. She began her work as a Chiropractor in 2004 as an intern at Palmer Clinics. In 2006, while waiting for her husband Dr. Nick to become Board Certified she worked as an Associate Doctor at Moline Chiropractic Clinic in Moline, Illinois. At MCC she gained valuable experience in a 30 year old wellness practice caring for people of all ages and with a variety of symptoms and conditions. Dr. Janét has also made several radio appearances on Health Matters, a popular Quad City Area Saturday morning radio show.
In 2007 she joined her husband Dr. Nick in forming Optimum Health Chiropractic here in Brunswick, Ohio. Their vision is to help as many people as possible realize their full health potential. Whether you are experiencing pain and symptoms, have a medical condition, or simply want to increase body function and vitality Optimum Health Chiropractic and Dr. Janét are ready to help you achieve your healthcare goals.
Education:
Doctor of Chiropractic (D.C.)-Palmer College of Chiropractic
Bachelor of Science (B.S.) Biology/Chemistry/Psychology-Winthrop University
Advanced Gonstead Cervico-Thoracic and Advanced Gonstead Lumbo-Pelvic
Licensure:
Memberships and Associations:
Palmer College Alumni Association
St. Ambrose Health & Wellness Committee
Dr. Nick Husser
Dr. Nick Husser is a graduate of Palmer College of Chiropractic in Davenport, Iowa and has been helping his community realize the amazing benefits of chiropractic care first hand since 2005. As an intern at Palmer Clinics and on an amazing Clinic Abroad Trip to India he has seen patients gain better nerve system function reducing or eliminating their pain entirely and also giving them renewed health and wellbeing. Dr. Nick is experienced and highly trained in the hands-on Gonstead technique. This specialized technique is well recognized and highly sought-out by patients familiar with Chiropractic. This is due to its reputation for affecting the spinal disc and allowing for fast results while under care.
Dr. Nick envisions a world where people understand that true health comes from within and not from outside interventions such as drugs, surgery, and injections. He is so passionate about this that he gives free health talks in the community and in the office to help educate others about their miraculous body. (Call for his schedule) Dr. Nick is a gifted speaker and very easy to listen to. Many of his patients find that after attending his health talks they are better able to make healthcare decisions for themselves and their family.
Education:
Doctor of Chiropractic (D.C.)-Palmer College of Chiropractic
Bachelor of Science (B.S.) Biology-University of Akron
Advanced Gonstead Cervico-Thoracic and Advanced Gonstead Lumbo-Pelvic
Licensure:
Memberships and Associations:
St. Ambrose Health & Wellness Committee